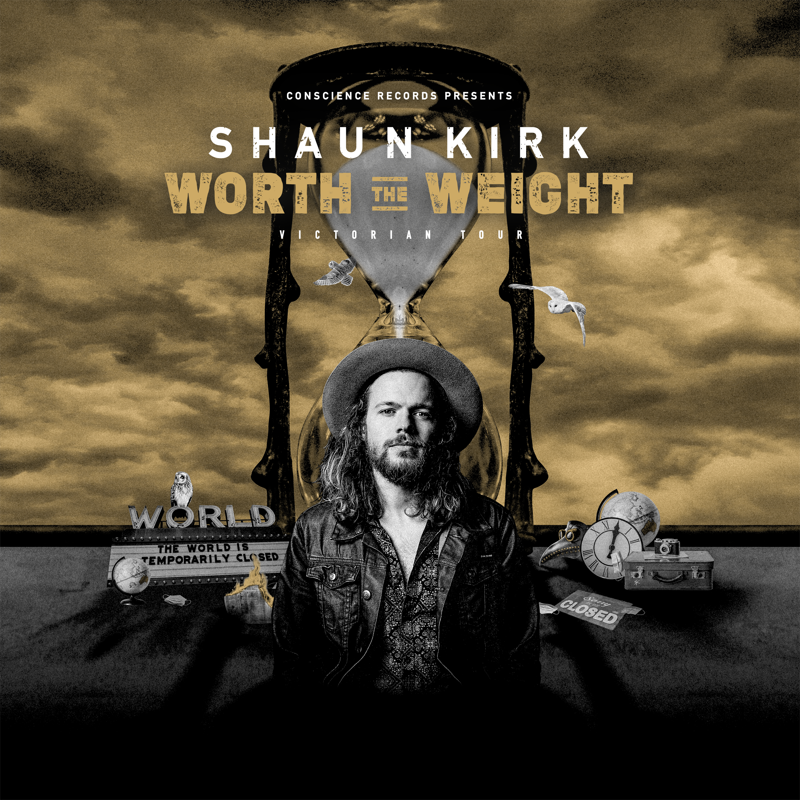 Conscience Records presents:
'Worth the Weight' Victorian Tour
Shaun Kirk + Wilson Blackley
More Info & Tickets
Entry Requirements: 18+ (ID Required)
PRE-SALE: General Admission (e-ticket)
TICKETS ARE EXTREMELY LIMITED DUE TO CURRENT COVID-19 RESTRICTIONS. PLEASE BOOK FAST AS WE DON'T WANT YOU TO MISS OUT!
After 12 months away from touring, the longest hiatus of his career, singer-songwriter and global troubadour Shaun Kirk is glad to announce his return to the live stage this coming Autumn.
Kirk was only hours away from boarding an Air Canada flight destined for Toronto back in March when the pandemic erupted across the world, narrowly escaping being left stranded overseas as borders closed and lockdowns were enforced.
He says "It's been such a heavy period for so many people, including many of my music industry peers. The uncertainty we face moving forward is daunting to say the least; but I'm optimistic that the pandemic has shone light on some of the issues we've been dealing with for a long time now, and that the heavy challenges we face are only building us up to bounce back stronger than ever. That's what this tour is all about!"
Prior to the pandemic, Kirk's ever evolving career was continuing to prosper, selling out a deluge of headline shows across Australia and New Zealand off the back of his 2018 self titled EP release, as well as signing with major North American agency Paquin, and completing half a Canadian national theatres tour supporting local powerhouse Matt Andersen.
The 'Worth the Weight' tour kicks off in Bendigo on March 20 and will feature performances of new material written during the pandemic, as well as Kirk's previously released tracks in what 2 time grammy award winner Fantastic Negrito recently described as "one of the best one man shows he's ever seen".